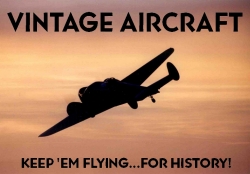 B-17G TOP TURRET FOR SALE
---
This B-17 top turret is for sale. Part of the proceeds will go toward the restoration of our museum's flying 1945 Lockheed PV-2D Harpoon (pictured behind the turret in some of the shots below).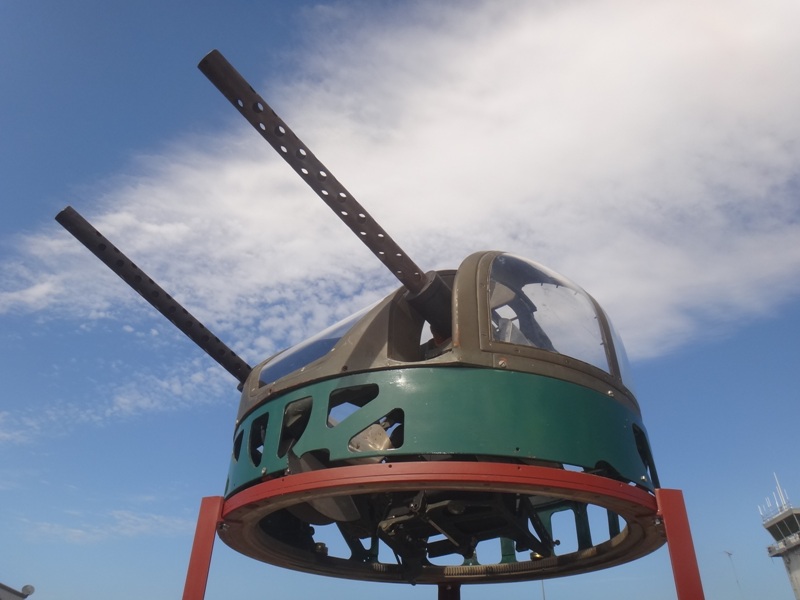 The A-1 upper turret was only used on the Boeing B-17 Flying Fortress series of aircraft. Of all of the turrets surviving today the A-1 upper turret is the rarest of the rare. This is the only Sperry upper turret available for sale and they hardly ever become available simply because almost all of them are installed in surviving B-17's or are in museums. Very few are known to be in private collections.
The coolest part of this turret is the dome and the gun platform which are actually new old stock parts that have been tucked away in the factory that made them in WWII. The olive drab paint on the outside and the Army Bronze Green paint on the inside are the very paint from the day they were made at the factory.
Because this dome is painted olive drab green camouflage it was used on earlier B-17G's as the later aircraft and turrets were silver or natural aluminum. This turret would have been installed on a B-17 that was painted camouflage with overall olive drab on the top and grey on the bottom.
This turret is extra special because the dome and gun platform are completely original and are not restored. Except for the center panel all of the Plexiglas in the turret dome is also factory original and is just as clear as the day it was made. This is a testament to the fact that this dome has been well protected for almost 70 years. What a truly rare find today. The two type 6 six and one type one domes that came out of that factory just a few years ago are believed to be the only Sperry top turret domes in existence that retain their original factory paint. One of those domes is for sale here and the other two are in our museum.
The surviving domes, mostly on B-17's, have all been restored with new glass and paint. This dome and gun platform are true museum pieces as even the WWII paint is not faded. The glass does have scratches and one panel is cracked as can be seen in the photos but the scratches can be polished out should you desire.
This turret can be used for many different things. Besides the fact that it would look great right in your living room (Guaranteed wife approved!) or in your B-17, it is a great display ready turret for any collection or museum. This has to be the ultimate WWII gamers trophy too.
If you are actually operating a B-17 then this is the perfect top turret for a flying aircraft. Instead of a dummy turret fixed in place like so many B-17's today have, this one can be installed in the aircraft to rotate and elevate. This Sperry turret can do this without the lower turret structure so you can have a rotating and elevating turret and yet still have a clear flight deck for your passengers and tours. This is the best of both worlds. I will also take original Sperry turret parts or other Warbird parts in trade toward the purchase of this turret. No flying B-17 today has an upper turret that can rotate let alone both rotate and elevate. Having a turret that a passenger can stand up in, spin around and raise the guns would be a selling point all by itself potentially creating a revenue stream to not only offset the cost but possibly paying for the turret purchase itself in time. The word of mouth/repeat and new customers as a result of a turret that the public could potentially manipulate without the the inherent dangers of a full operating powered turret are something to consider. Having something like this as an additional draw to bring people to see your B-17 instead of the competitions aircraft can be a real marketing tool. How about for an extra $20 per person you will give a special tour of the top turret that allows someone to spin the turret during ground tours. A volunteer could take several folks up for a small group tour of the top turret telling them about the importance of the gun turrets for defense. The tour could discuss all of the turrets with the opportunity to spin this top turret.
It would also be possible to power this turret should you desire as the roller bearing ring structure has a precision gear machined into it which lends itself to making the turret capable of powered rotation and elevation. This turret ring and gear assembly is heavy duty and is quite strong.
Here is a YouTube video of Sydney taking the turret for a spin. The guns will elevate from 90 degrees up to 5 degrees below horizontal.
The partial guns used in the turret for the pictures and video do not come with the turret. Full good looking replica guns have been ordered and will go with the turret when sold. The replica guns are for display only and cannot be made to function. They are not considered firearms and are legal to own. This is not a weapon but a piece of history. please also understand that this is not a full and complete turret but is the upper portion of the turret made up of the original unrestored type 6 dome, original unrestored gun platform and upper part of the cast ring structure. These original parts are secured to a steel roller bearing/ring gear which is what allows it to manually rotate and elevate the turret just like the original. There are three legs to support the turret that can be unbolted easily. If you have any questions just email taigh@twinbeech.com or call 209 534 4466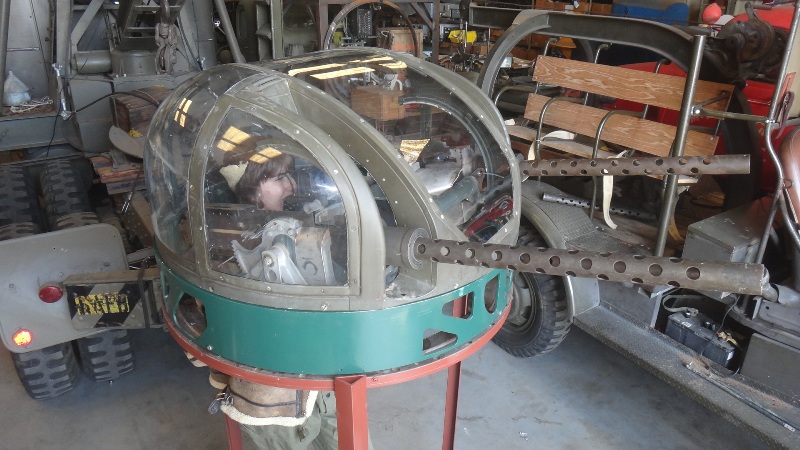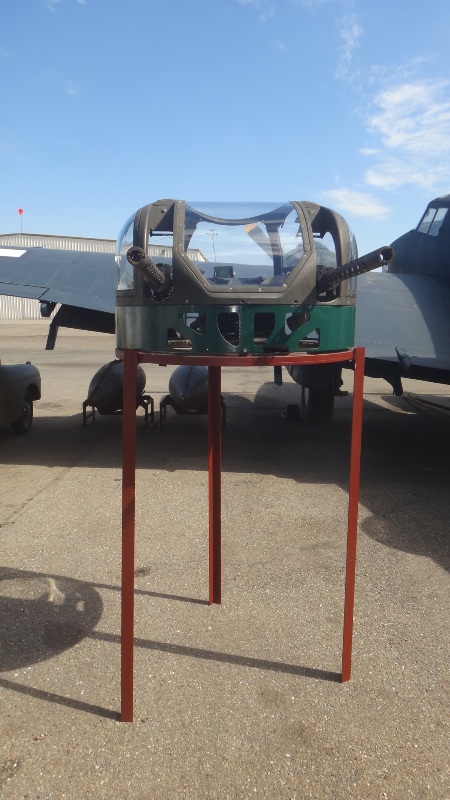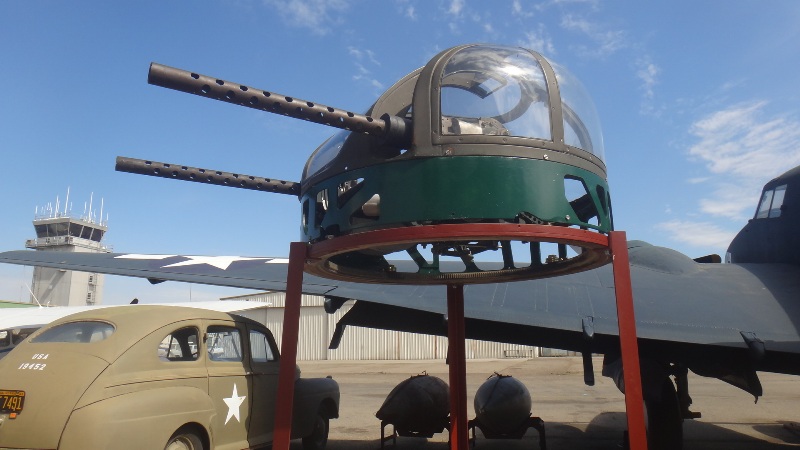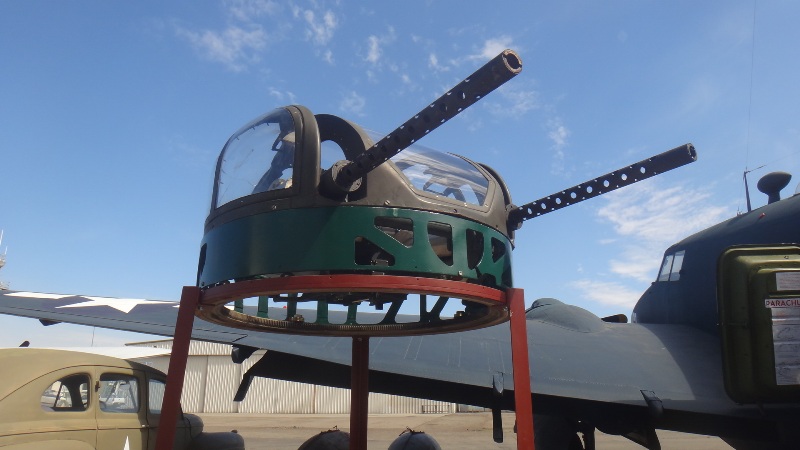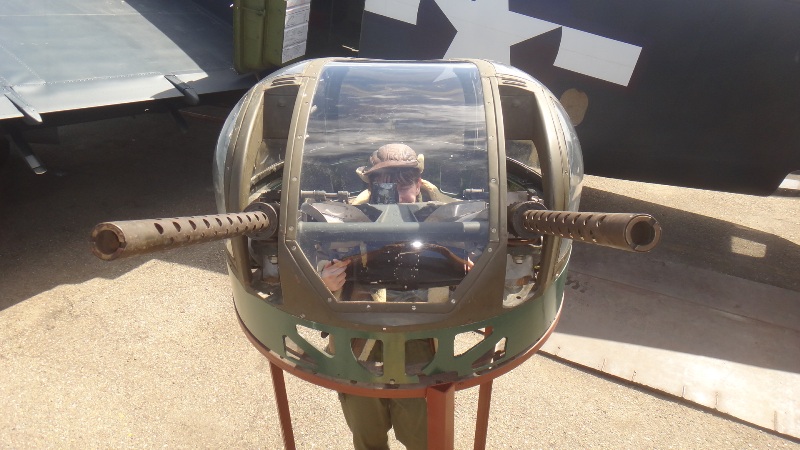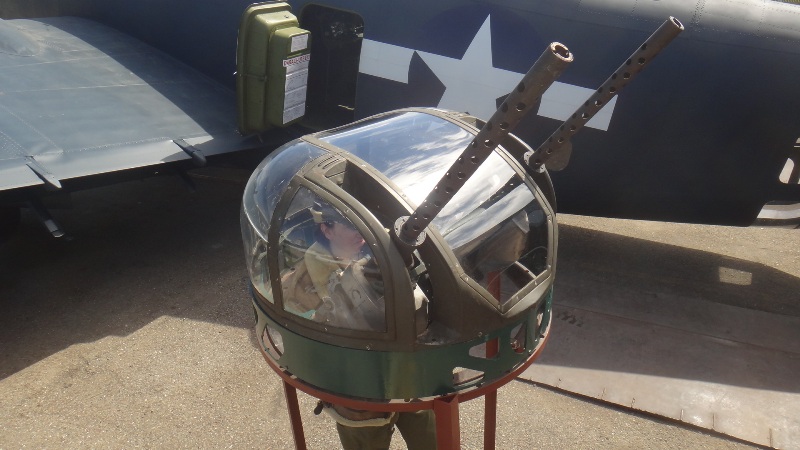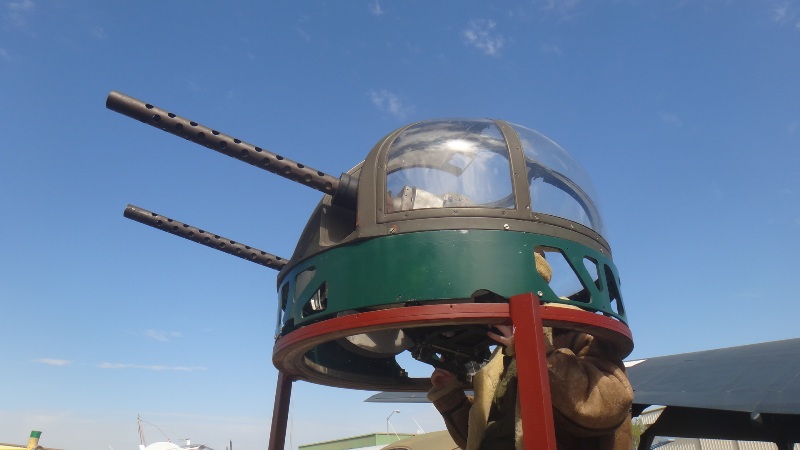 The turret can also be used for photos to generate revenue for your museum or at air shows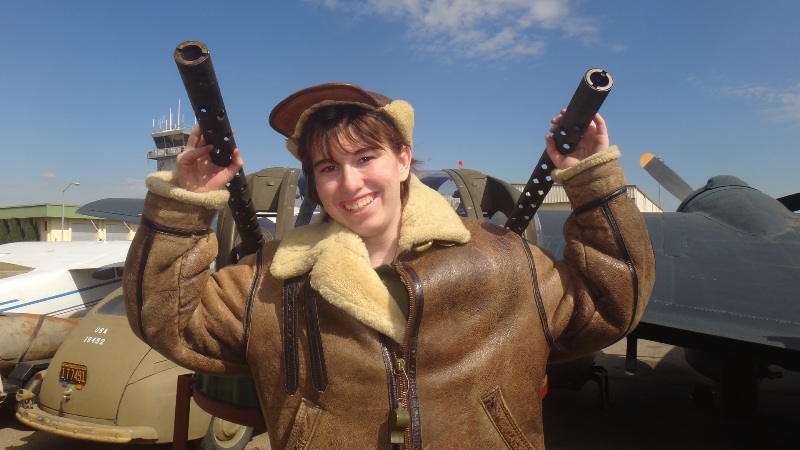 This shot shows the crack in the aft right hand Plexiglas panel and the scratches can also be seen. The factory original hardware, except for 5 screws and nuts, are all in place.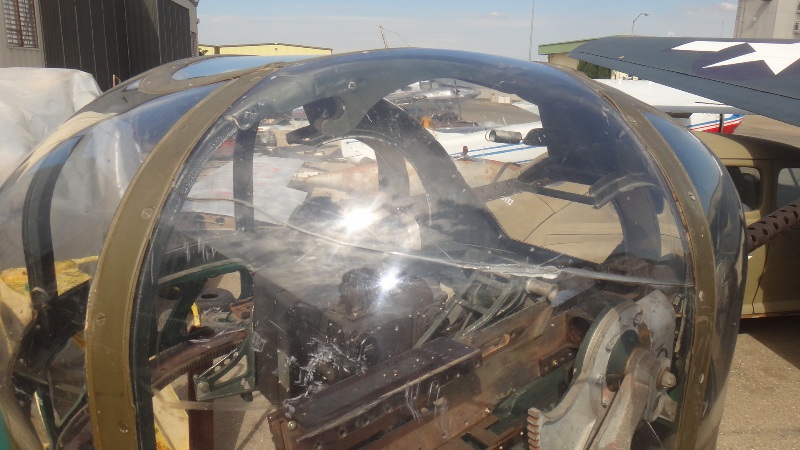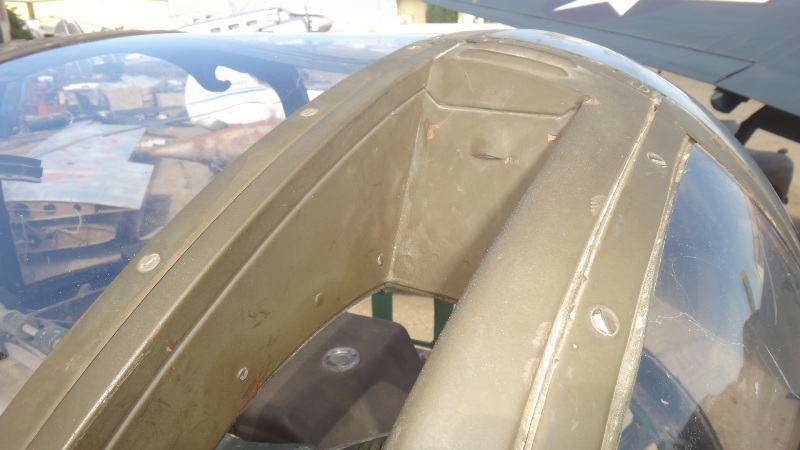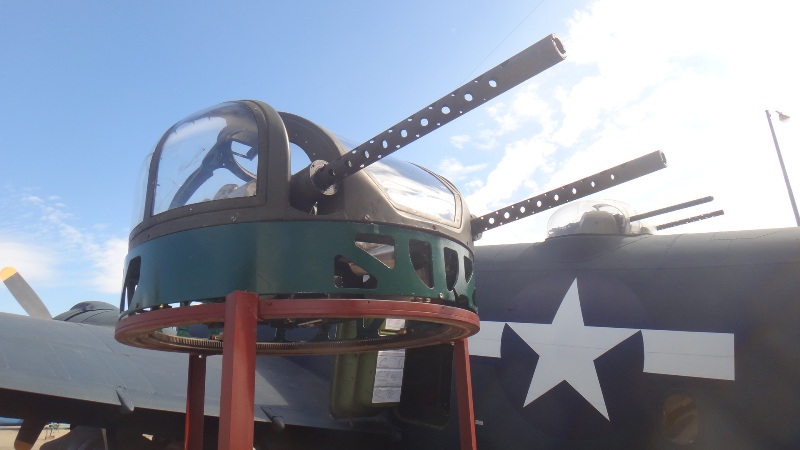 A computing gun sight is also installed on its mount. Some of the castings have cracks as most turrets do. These can be repaired or left alone. My reference is to leave the original paint and accept the flaws. It is only original once and once it has been "restored" then the original finish is gone for ever.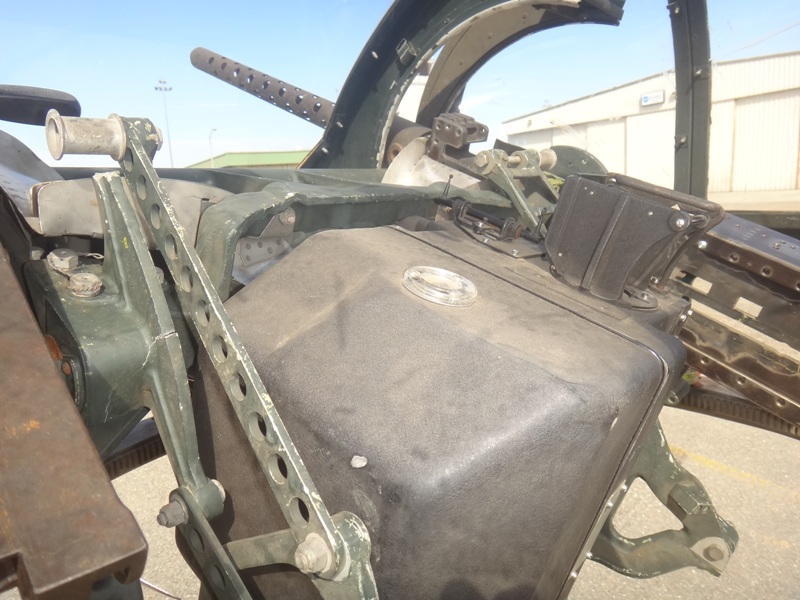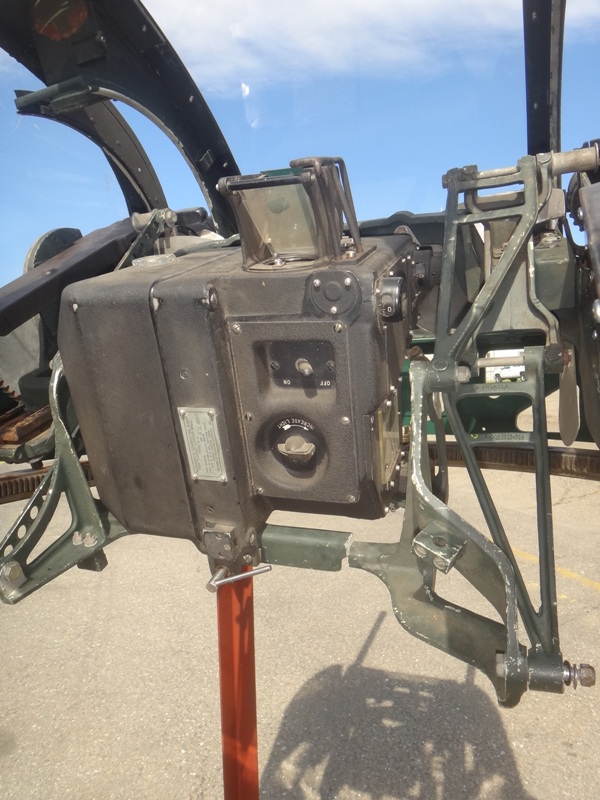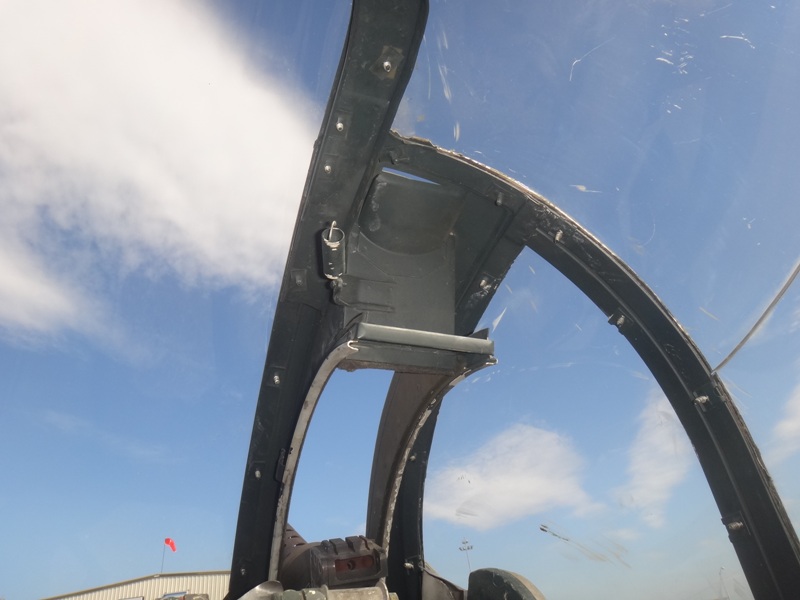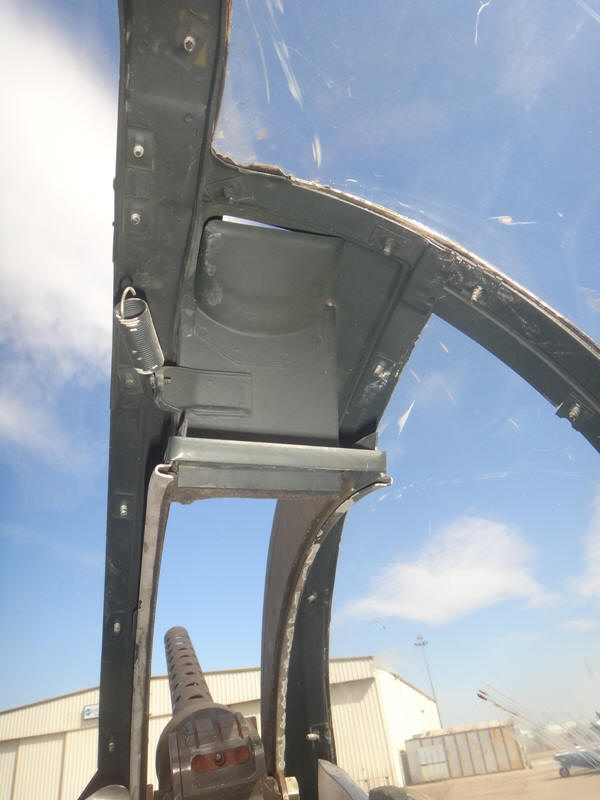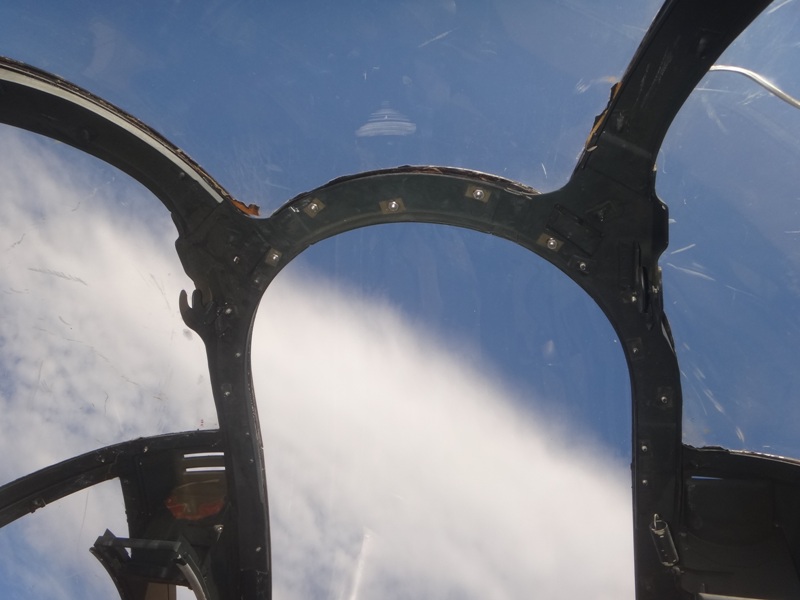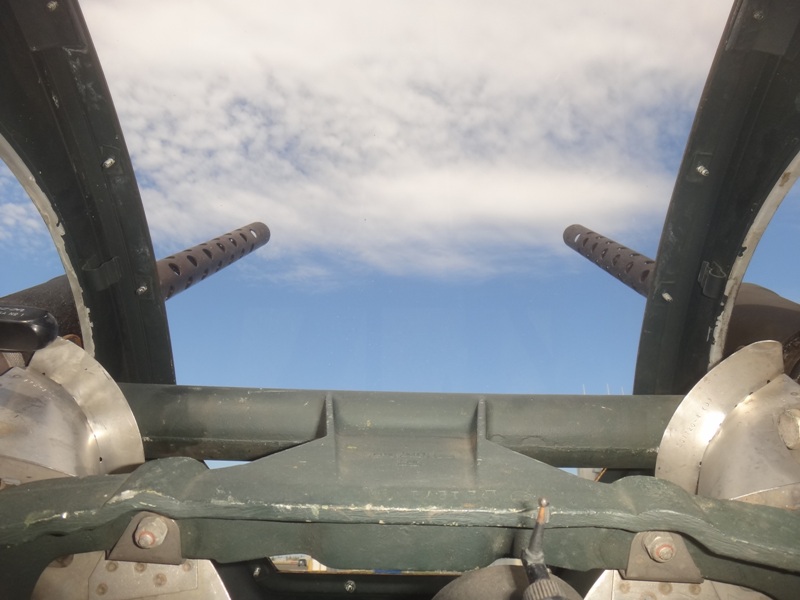 The view through the fixed ring and bead of the gun sight. The sight could be hooked up to 24 volts to make the optics light up
Here are some great WWII photos of the B-17 top turret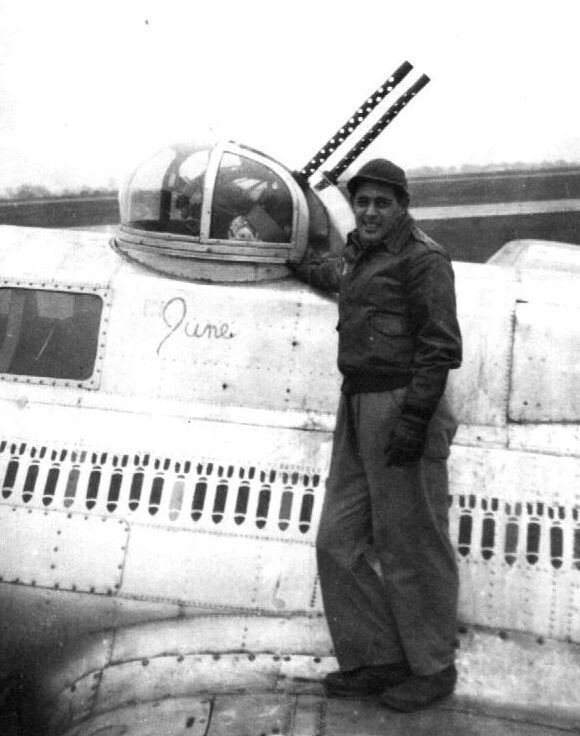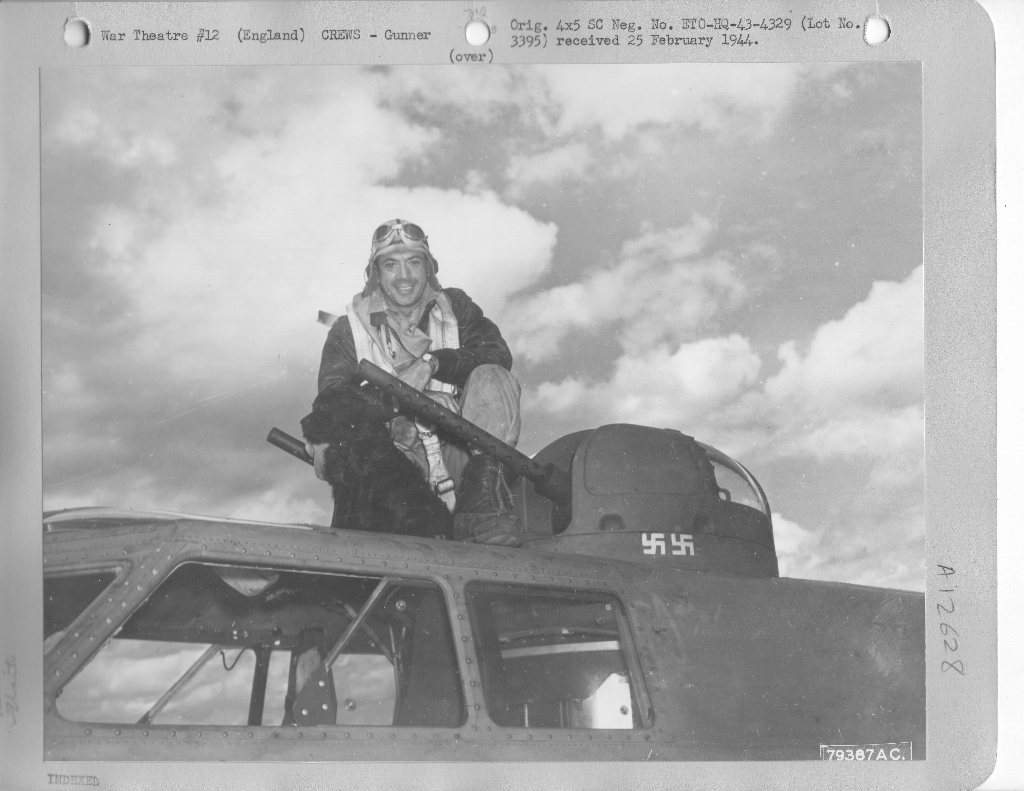 Here is a dome only top turret installed on a currently flying B-17G that is rigidly mounted and no gun platform. This and several other B-17's flying today could benefit from having a moving top turret like ours which will leave the flight deck clear for passengers and crew. EAA's Aluminum Overcast, CAF's Texas Raiders, Yankee Air Museum, Sally B in England and Lonestar's Thunderbird are a few of the flying B-17's with dummy turrets fixed in position. Any sponsors out there want to help this turret get back into a flying B-17? Several B-17's in restoration now could also use a turret like this one. It is a fact that there are more B-17's around today then there are Sperry upper turrets. They were all removed from the aircraft and scrapped not long after WWII because they were not needed.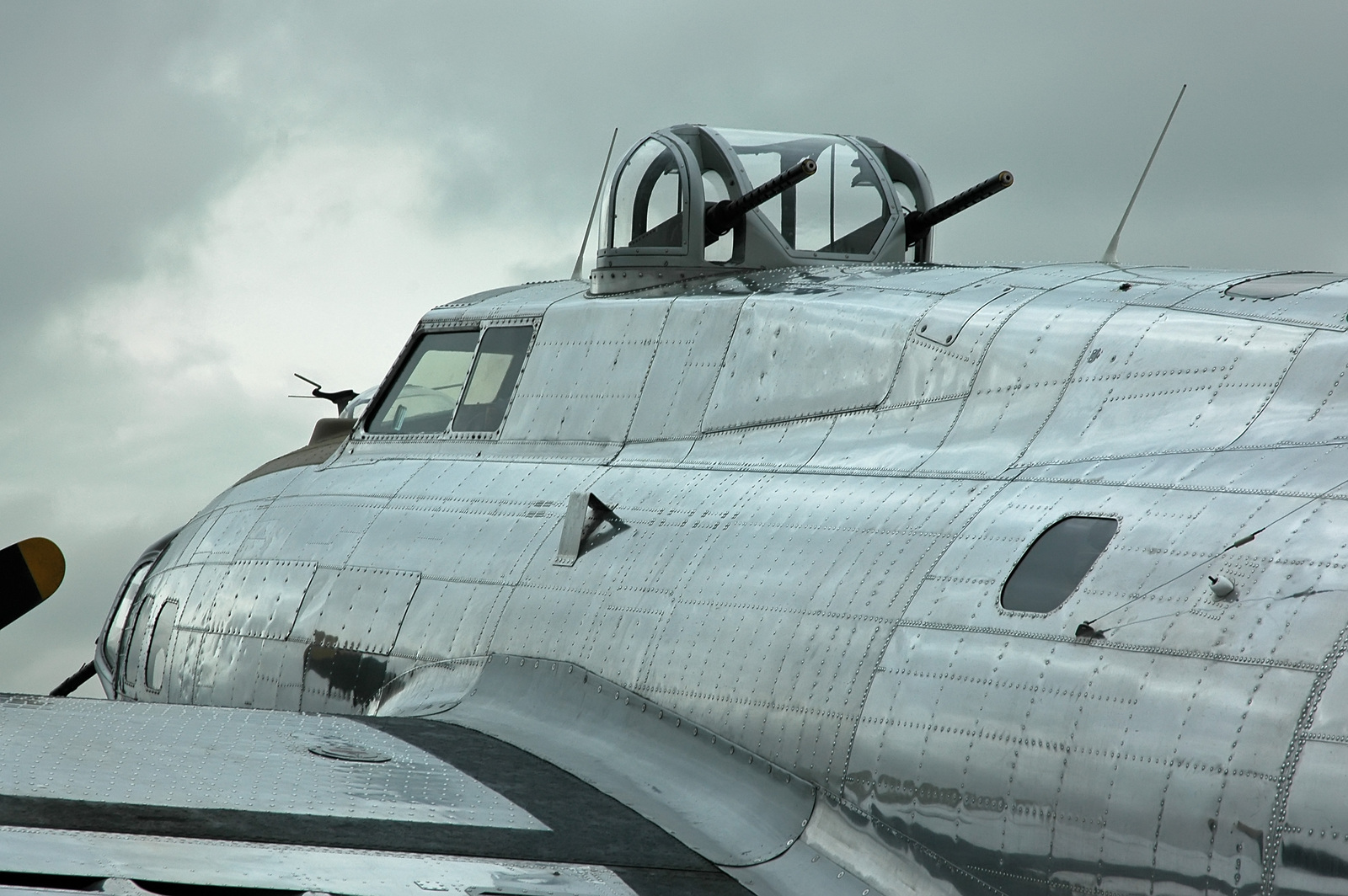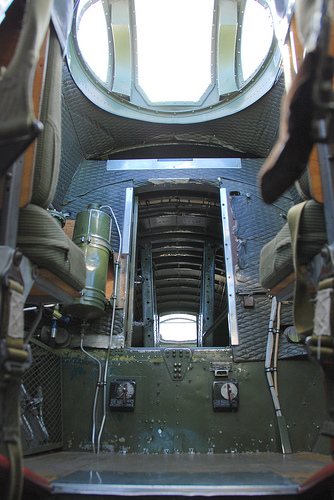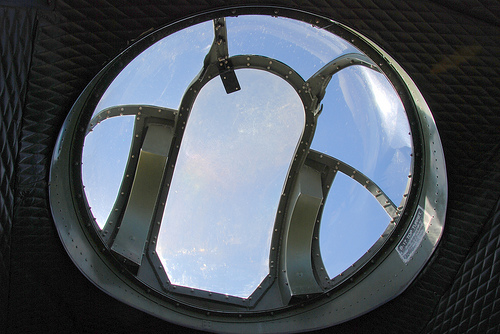 Any questions can be directed to the email above or by calling at the number below
TO ALL OF OUR COUNTRY'S VETERANS, WE HERE AT VINTAGE AIRCRAFT WOULD LIKE TO SAY:
THANK YOU FOR WHAT YOU DID FOR OUR COUNTRY!
HOME PAGE VINTAGE AIRCRAFT ANNOUNCEMENTS JOB OPPORTUNITIES WARBIRD-RIDES AIRCRAFT FOR SALE HOW THIS BEECH 18 MADNESS BEGAN THINKING ABOUT A TWIN BEECH PROJECT? BEECH 18 SPAR CONCERNS BEECH 18 SPAR STRAP KITS BEECH 18 GROUND TRANSPORTATION TWIN BEECH PHOTOS BEECHCRAFT RC-45J BEECH AT-11 KANSAN RESTORATION OF AT-11 41-27603 C-45H N314WN TECHNICAL MANUALS AND PUBLICATIONS STOCKTON FIELD AVIATION MUSEUM WWII WARBIRD GROUP NORDEN BOMB SIGHT WWII RADIO PAGE AIR SHOWS AND EVENTS VOLUNTEERS WAR STORIES B-25 OLD GLORY B-29 IT'S HAWG WILD B-29 42-65401 NOSE SECTION B-29 GUNNERY SYSTEM HUMOR SEARCH THIS WEB SITE CONTACT US
VINTAGE AIRCRAFT
7432 C.E. DIXON STREET
STOCKTON, CALIFORNIA USA 95206
(209) 982 0273
(209) 982 4832 FAX
KEEP 'EM FLYING...FOR HISTORY!