AIRCRAFT FOR SALE
---
SOLD
1984 AERO VODOCHODY L-39C ALBATROSS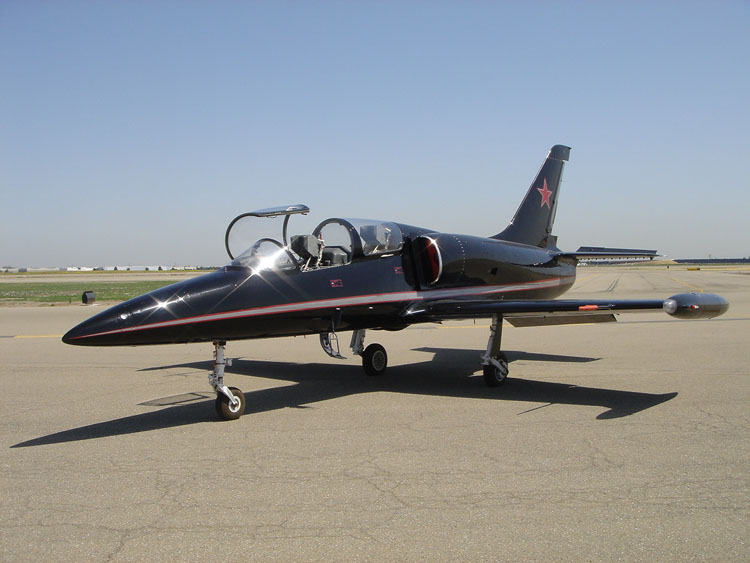 SOLD
A very meticulous gentleman purchased this beautiful L-39C a little over a year ago, and it was to be the start of his Warbird collection. He had her flown out to Stockton, California where he began his flight training. Shortly after he earned his LOA he passed away. With the majority of the estate settled his wife has decided to sell her late husband's favorite item, the L-39.
Vintage Aircraft has been chosen to sell this aircraft for her. This L-39 was imported and assembled by Air USA Inc. in April of 2000. At that time the airframe had 801.23 hours since new and the engine had 190.7 hours since overhaul. She has flown less than 24 hours since then. The L-39 has been hangared and taken care of, and has not flown in over a year. We recently checked her over and fired up the APU and main engine, ran the service checks and did a high speed taxi. All systems functioned perfectly and she was itching to fly.
I have opened up many of the inspection panels and I am impressed with the condition of the airframe and engine. The low time certainly shows. I have been judging Warbirds at Oshkosh for many years, so I have had the privilege of looking closely at quite a few L-39's. Most of the L-39's that I have seen fall under the "Lipstick on a Pig" category. This is an official judging term for an aircraft that has a nice paint job but when you look under the skin you soon see their swine like characteristics. You can usually see original imported grease and desert sand still in place inside the airframe and sometimes it has been held in place with a fresh layer of paint! Such is not the case with this aircraft. Wherever you look she is clean and immaculate. The factory placards and paint are in great shape. The engine is clean and looks like it has less than 213 hours. The whole aircraft stands as a testament to its low hours as you can see from the times below. The detail work done by Air USA is of the highest rate as their attention to detail is very nice. The radio package fits well right below the glare shield of the front cockpit. The aircraft is IFR capable with a Garmin package consisting of a GNS 430 GPS NAV/COM LOC, GMA 340 audio panel and GTX 327 transponder. On the right side is a back up Garmin GNC 250XL GPS COM.
The airframe was painted in September of 2000 with PPG Jet-glo black and has red and silver stripes. There is a red star on the tail. The paint is in great condition since the aircraft has been hangared ever since.
This L-39 comes with a full set of translated manuals. She also has a custom canopy cover (which extends from the tip of the nose to the intakes), engine intake and tail plugs and pitot covers.
The seats are presently not armed but a new set of rockets and initiators, packed in the original shipping crate and case, is included should you decide to make the seats hot.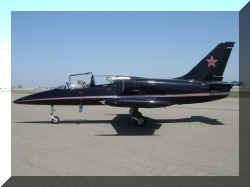 Total time airframe: 824.5
Airframe cycles: 2105
Engine: Ivcheno AI-25TL
Engine hours: 213.5 since overhaul
1460.1 since new
APU: Saphire 5
Total starts since overhaul: 249
Total starts since new: 1259
If you have any questions please call or e-mail me. The contact information is listed below.
ALL PHOTOS ARE THUMBNAILS SO CLICK ON AN IMAGE FOR A LARGER PICTURE
The front cockpit with the avionics package. Notice how clean the panel and avionics installation is.
The cockpit lighting is impressive and can be switched from red to white.
The rear cockpit.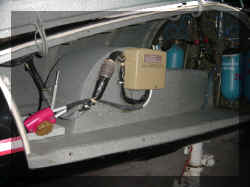 The nose compartment, with very nice detail, has a lot of room for baggage.
The condition of the air bottles, plumbing and electrical give you an idea of the quality of the rest of the airframe.
So does the the interior of the fuselage. The factory paint and decals are in outstanding condition as are the wiring harnesses.
These next two shots show the interior of the engine compartment which is as nice as the rest of the aircraft.
This aircraft has been sold
Please check our other listings by clicking here
TO ALL OF OUR COUNTRY'S VETERANS, WE HERE AT VINTAGE AIRCRAFT WOULD LIKE TO SAY:
THANK YOU FOR WHAT YOU DID FOR OUR COUNTRY!
HOME PAGE VINTAGE AIRCRAFT ANNOUNCEMENTS JOB OPPORTUNITIES STOCKTON FIELD AVIATION MUSEUM WWII WARBIRD GROUP WARBIRD-RIDES B-25 OLD GLORY AIR SHOWS AND EVENTS AIRCRAFT FOR SALE BEECHCRAFT RC-45J HOW THIS BEECH 18 MADNESS BEGAN THINKING ABOUT A TWIN BEECH PROJECT? BEECH 18 GROUND TRANSPORTATION BEECH 18 SPAR STRAP KITS TECHNICAL MANUALS AND PUBLICATIONS TWIN BEECH PHOTOS BEECH AT-11 KANSAN RESTORATION OF AT-11 41-27603 NORDEN BOMB SIGHT WWII RADIO PAGE B-29 42-65401 NOSE SECTION VOLUNTEERS SEARCH THIS WEB SITE CONTACT US
VINTAGE AIRCRAFT
7432 C.E. DIXON STREET
STOCKTON, CALIFORNIA USA 95206
(209) 982 0273
(209) 982 4832 FAX
KEEP 'EM FLYING...FOR HISTORY!